HIGH QUALITY LEAF AND DEBRIS PROTECTION PRODUCTS

Leaf protection is a great way to minimize your maintenance requirements. A-Plus offers some of the best
leaf protection products
on the market today at affordable rates. We can install them on New
seamless rain gutter Systems
or existing ones. Leaf protection helps prevent clogs in your downspouts or gutter overflows.
They keep the leaves out but still let the rainwater in. A-Plus Gutter Systems has a variety of products to fit your needs, depending on what type of trees surround your property.
Call us for a free estimate and assessment.
---
EZ-LOCK 4,5,or 6 inch

EZ-LOCK
-is our most economical leaf protection product. It is a rigid steel mesh with a powder coating to prevent rust.
EZ-LOCK
is a very good product for properties with larger sized leaves (larger than a quarter) and debris. However, it does not work well for very small leaves, buds or pine needles.
---
---
SHUR-FLOW 5 and 6 inch


SHUR FLOW
-is our mid range product. Made from solid aluminum,It is designed to let the rainwater in yet keeps the debris out.
SHUR FLOW
works well for large or small sized leaves and debris. It even works well at stopping pine needles from entering your gutter system.
---
---
---
Micro Mesh 5 and 6 inch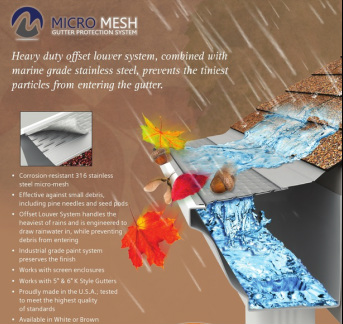 Micro Mesh Can Keep all debris even roof granules from entering your Seamless Rain Gutters,New or existing. They are a solid Aluminum Cover with a sturdy Surgical Quality Stainless Steel Screen attached over the top. This Product is especially effective against Pine Needles.

---
Micro Mesh, Stainless Steel Over Solid Aluminum. Nothing but Water can enter the Gutter System. Very Effective for Persistent Pine Needle Clogs.
---