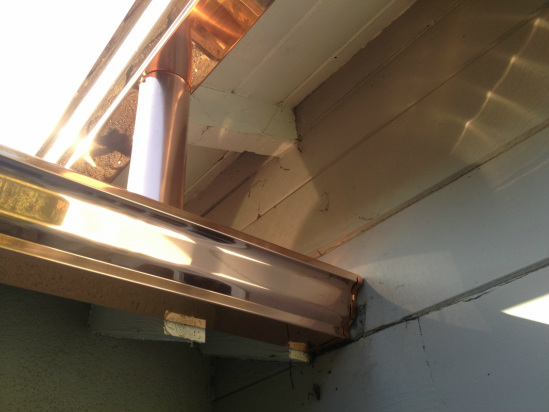 Please Note. All Content including Digital images found on this or any other website owned by A Plus Gutter Systems Inc. is Fully protected by Copyright Laws. Please Contact us if you wish to Use, purchase or Lease any images or Content.
---
Copper Gutters Los Angeles

Copper
gutters and downspouts are truly a work of art as well as a functional part of your home.
Copper gutters
are known to last well over 100 years. They will never rust and after some time will change colors, eventually settling on a gorgeous green patina (like the statue of liberty)
copper leader heads
are a great way to add a personal touch to your
copper gutters.
Call A-Plus Gutter Systems today and we will be glad to come to your home or business and give you a
free estimate
.

Custom and Copper - copper gutters are the Rolls Royce of gutter systems. Strong, beautiful, corrosion resistant, and durable. copper gutters have been known to last well over 100 years.
If you live close to the ocean or you just like the look, you may want to consider purchasing a copper gutter system for your home. Copper gutters are available in seamless and custom shapes. Prices tend to change rapidly for copper so all copper estimates are good for 10 days only. Ask us about "copper plus" A new product being offered by A-Plus Gutter Systems. Copper Plus is a copper and stainless steel sandwich. Copper on both sides with stainless in the middle. Prices tend to be about 10% less than regular copper. (only available for the rain gutters. No downspouts or accessories at this time)
Copper Rain gutters are available in Seamless K-5, K-6, Angle Faced, Half Round and Custom shapes or sizes. Downspouts
are available in 2x3 square, 3x4 square, 3 inch round, 4 inch round or twisted. Custom straps,Bracket's or End caps are also available upon request.
---
Solid Brass Cast Gutter and Downspout Brackets,Extensions, and Other products for Copper Gutters. Also available in solid Aluminum. Enjoy!